Bauerfeind GenuTrain A3 Knee Brace
Save

0

%
Save %
Original price
$250.00
-
Original price
$250.00
Helps relieve chronic knee pain and irritation.
Bauerfeind's GenuTrain® A3 knee braces and supports are designed especially for active seniors who need support of complex, chronic knee pain.
Stabilizes and stimulates
Bauerfeind's GenuTrain A3 knee brace is designed for degenerative knee pain such as that caused by osteoarthritis. "A3" stands for Anti, Arthrosis, Algos. Which means "against joint pain" in Latin. It is also beneficial for injuries or pain on the inside of the knee. The three-dimensional fabric is constructed to conform to the natural shape of the knee, so the knee is still mobile, but gets the stability it needs. The support has a pad inside that prevents the kneecap from slipping.
Effective and comfortable
A viscoelastic pad fits snugly against the knee and gives the joints and muscles a targeted, healing intermittent massage with every movement. By reducing inflammation and relieving pressure, GenuTrain A3 braces accelerate the healing process. The soft knit fabric is extra stretchy, machine-washable in the gentle cycle, which helps maintain its elasticity and original fit. The fabric is breathable to keep sweat away from your body. You won't find a more comfortable brace.
Pain won't get in the way of life
Live an active lifestyle without letting chronic knee pain slow you down, with GenuTrain A3 knee braces and support by Bauerfeind.
Components
Soft knit fabric - Keeps moisture away from the body and machine-washable on the gentle cycle (which helps maintain its elasticity and original fit) so it's easy to care for.
Soft hollow of the knee - Enhanced wearing comfort
Expansion zone - In the calf area, makes the support easier to put on.
Corrective guide - Keeps the knee cap stable and centered for stability without loss of mobility.
Massage pads - Comforting soft stimulating nubs provide pain relief.
Treatment of
Medial meniscus tear
Beginning arthritis
Osteoarthritis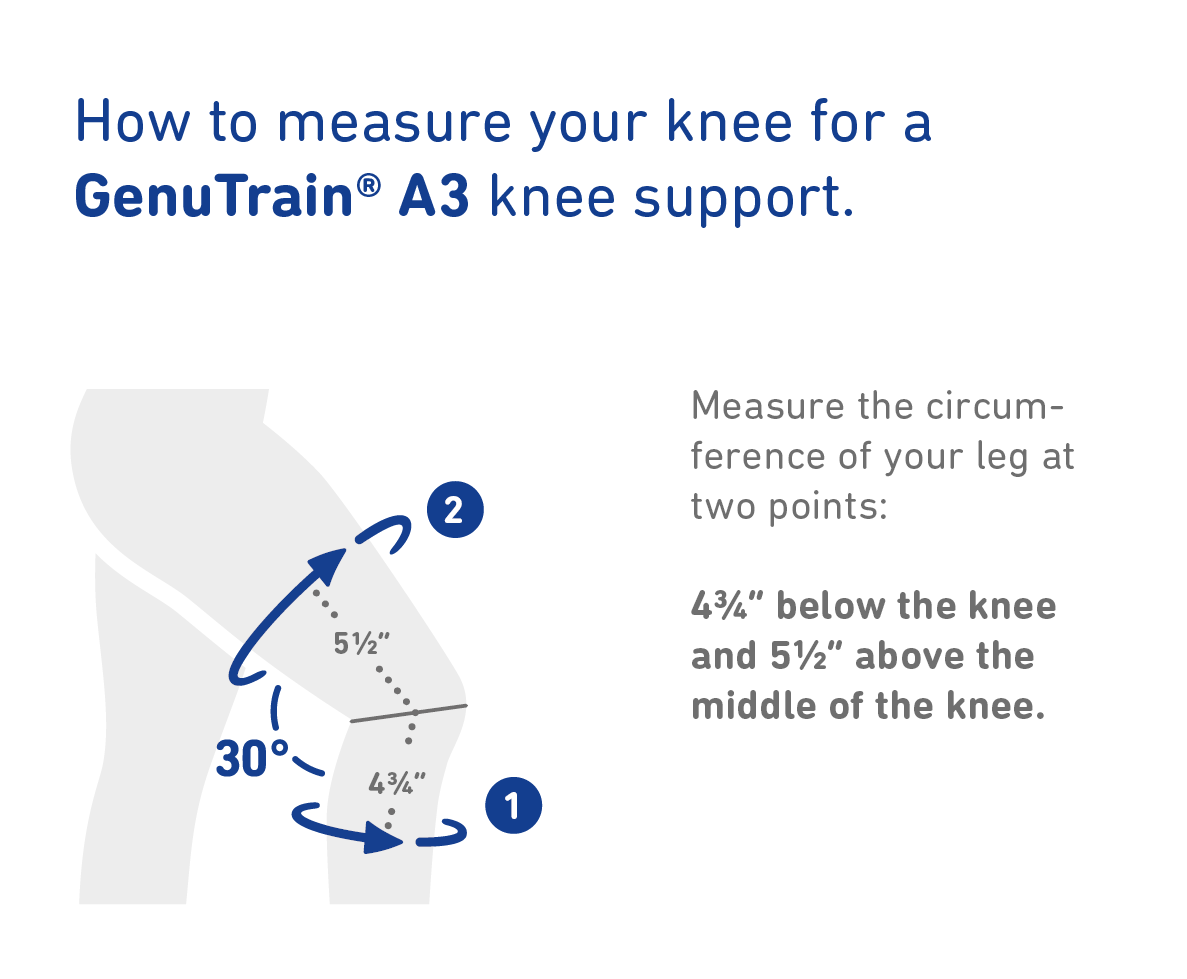 Can I wash it?
Yes. All Bauerfeind supports are made with machine-washable materials. Here's how to care for your brace: For products with Velcro® straps, pads or inserts, remove them if possible, or fasten them securely at the place provided on the brace. Machine wash your brace in cold water using the gentle or delicate cycle. Wash separately using laundry detergent with no additives (do not use fabric softener or Woolite). Lay your support flat and let it air dry; do not put it in the dryer. Proper washing and drying helps your knit support maintain elasticity and original fit.
What if I'm between sizes? Should I purchase the smaller or larger size?
Choose the larger size for gentler compression or the smaller size for firmer compression. When between sizes, the average person prefers the smaller size for a more secure fit, unless you are sensitive to compression.
*The brace may be covered under your extended health insurance.